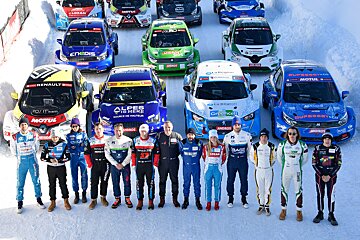 © Trophee Andros | BRUNO BADE, GREGOIRE SIGAUD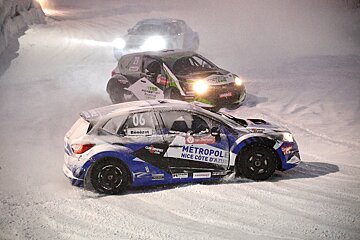 © Trophee Andros | BRUNO BADE, GREGOIRE SIGAUD
Andros E-Trophy, Val Thorens
High speed ice driving competition that tours the Alps
France's most prestigious ice racing series stages one race each season at the French ski resort of Val Thorens. This is an unmissable event!
The Andros Trophy has been running since 1990 and attracts the world's best drivers and car manufacturers. A glamorous and spectacular event, it consists of further races in mountain resorts namely: Andorra, Isola 2000, Serre Chevalier, Lans en Vercors and Clermont Ferand/Super Besse, with a grand finale pitting the leaders against each other in the Stade de France, Paris. This has now become the Andros E-Trophy and is driven with cars that are fully electric.
The race is divided into two categories, Elite and Promotion, which are then further split into two individual heats. Each driver and co-pilot team is divided into two groups for the heats and the finals, the winning team being the one with the highest points tally.
The ice tracks are prepared weeks in advance in each of the resorts, habitually and rigorously sprayed with water to ensure an even and stable coating of ice. The unpredictable alpine weather conditions can make for exciting viewing when ice melts or re-forms at unexpected points of the race.
The spectators will have an amazing day watching the racing and enjoying the live entertainment in the spectators zone.
Watch this
Venue
Alain Prost Ice driving circuit, Val Thorens
Location