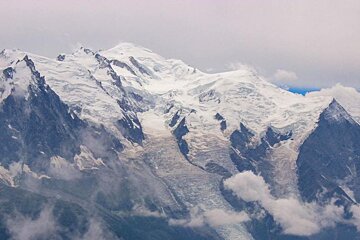 Environment in Val Thorens
Discover the Val Thorens environment and eco-schemes
Climate change has become one of the world's major issues and talking points.
It's an undisputed fact that due to climate change, glaciers around the world, on which many ski resorts are located, are receding. The continued development of the skiing industry is placing significant pressure on these glaciers, the mountains and their fragile eco-systems.
There are numerous ongoing projects and initiatives at both local and international level working towards preserving glaciers and the mountains for future generations, and you too can play a part. But why are glaciers so important?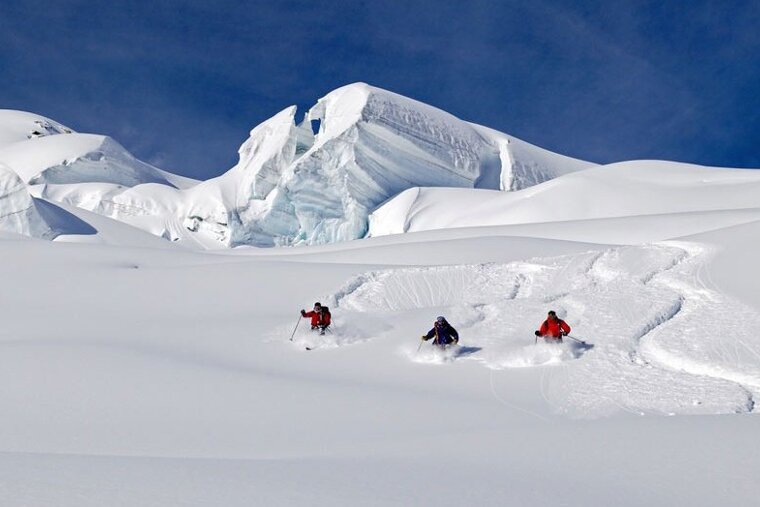 What is a glacier?
In the world today we have around 198,000 glaciers covering 726,000km² of ice. Most of them exist in the polar regions, and are remnants from the Ice Age, meaning the ice itself is several hundred to several thousand years old. Each of these glaciers are exceptionally diverse, each completely influenced by local, regional and global environmental changes. Glaciers have short response times and therefore react quickly to climate change, making them important study material for those looking to know more about global warming.
What is a glacier?
A glacier is a "continuously moving body of ice" that forms when the balance between its accumulation differs from that of its ablation. In real terms this means that a glacier will form where the accumulation of snow and ice inputs ('accumulation') are more significant than its melting and evaporating process outputs ('ablation'). It is this continuous process that determines a glacier's size (thickness) and length. Other factors such as the reflectivity of the glacier's surface, the annual precipitation, humidity and wind speed will also affect a glacier's input and output balance.
As a glacier grows and moves it changes in appearance whilst simultaneously carrying with it gravel, rocks and large boulders. Together, these materials act as sandpaper slowly carving away at the surface below creating a defined path whilst widening the rock underneath. The rate and direction of movement for a glacier will largely be determined by the slope angle, ice thickness and ice temperature.
As our climate changes, so does the precious balance of a glacier's 'inputs' and 'outputs'. Sustained periods of warm temperatures in both the summer and winter seasons are currently affecting the thickness and advancement of the world's glaciers. As global warming leads to insufficient snowfall (warmer temperatures means rain, not snow), glaciers that would normally grow are now finding that there is insufficient snow to replace the melt process.
Why are glaciers so important?
These vast ice bodies act as a protective shield to the Earth and its oceans, feflecting excess heat back into space and keeping the planet cool. Their rapid melt influences ocean currents and causes rising sea levels.
Since the early 1900s, many glaciers around the world have been rapidly melting, with human activity at the root cause. According to the WWF "Even if we significantly curb emissions in the coming decades, more than a third of the world's remaining glaciers will melt before the year 2100. When it comes to sea ice, 95% of the oldest and thickest ice in the Arctic is already gone".
Over the past few years, warmer temperatures in the French and Swiss Alps have impacted on the length and duration of snowfall. European ski resorts are one of the first places where the impacts of these initial climate changes are being seen. Several glacial ski resorts have reported that they are suffering from significant and serious glacial melt, which has potentially been caused by the temperature variations experienced in recent years. Of these ski resorts Tignes, Les 2 Alpes, Alpe d'Huez and Avoriaz have all expressed varying amounts of glacier shrinkage, however the visual evidence and impact in some mountain resorts is more evident than others.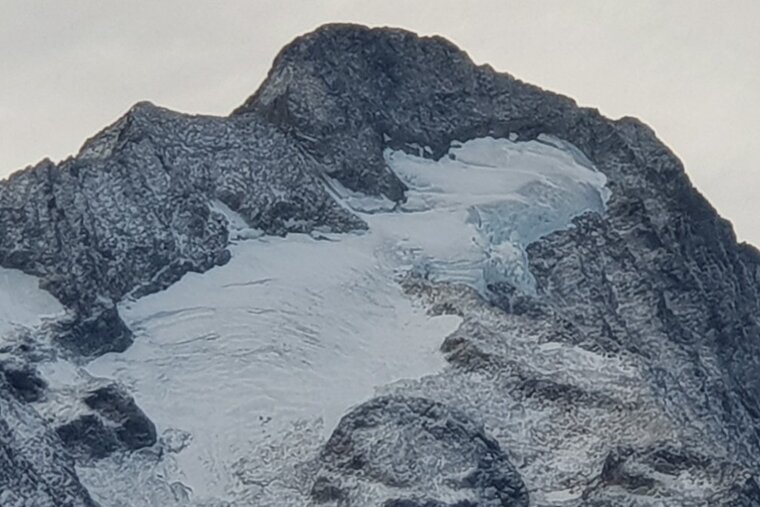 Glacier shrinkage
Scientists have been watching global warming, and man's effect on climate change for some years now. In discussing global climate change and its impact on the world's glaciers scientists from the University of Zurich, Switzerland, recently argued that should current temperatures increase overall by between two and five degrees, the European Alps could worryingly see some 80% of glacial cover being lost by the end of the 21st century.
In further examining glacial shrinkage we understand that in addition to the weather patterns, resort latitude and orientation also play key roles in glacial creation and stability. There are some European glaciers that have lost glacial mass at a faster rate than others and these additional contributing factors could be to blame. Swiss and Austrian resorts have noted a marked change in their glacier retreat since the early 1980s. Studies on this subject indicate that these glaciers have lost almost a fifth of their total area since 1985, this rate is seven times faster than the previous 123 years.
The Sarennes glacier in the Grandes Rousses massif of the Southern Alps has seen significant reduction in glacial mass over the past 20 years, with more than 20m disappearing. Tignes has similarly noted a mass reduction in its Grand Mott glacier, albeit at a less dramatic rate. Didier Richard, a glacier specialist with the CEMAGREF in Grenoble (an agricultural and environmental engineering facility), commented recently that the Alpe d'Huez glacier will 'without doubt have disappeared by 2050!' which is worrying for the environment and surrounding wildlife, but also for the resort's tourism industry and water supplies. The heatwave of summer 2022 saw extreme temperatures and wild fires hit Europe, and the mountain resorts of France were not spared. In Tignes, the summer glacier skiing lasted only 14 days, closing a month earlier than scheduled, Les Deux Alpes ended their summer glacier skiing in early July, and Val d'Isère didn't even open the Pisaillas glacier, due to poor snow cover and mild May temperatures. With heatwaves around the world predicted to become the norm, the glaciers across all continents are now melting at the fastest rate in human history.
Glacial shrinking can also be dangerous. Frequently as glaciers retreat, large lakes form behind them. Where these glacial lakes are held behind moraine dams there is always the potential that the ice and pressure could cause the moraine to break, creating widespread flooding in the valleys below. In the Himalayas for example, there have been many examples where glacial lakes pose a threat to local valley communities. Closer to home, in 1892 a lake that was fed from the Glacier de Tête Rousse burst its banks emptying 200,000 cubic metres of water into the town of St. Gervais, killing 200 people. Only recently, a large glacial lake measuring five hectares across and 25m deep formed due to summer melt at the back of the Glacier de Rochemelon (3,218m) in the Savoie area of France. In this instance, current glacial experts were monitoring the situation and the lake was drained to avoid any risk to the local valley population. Phew!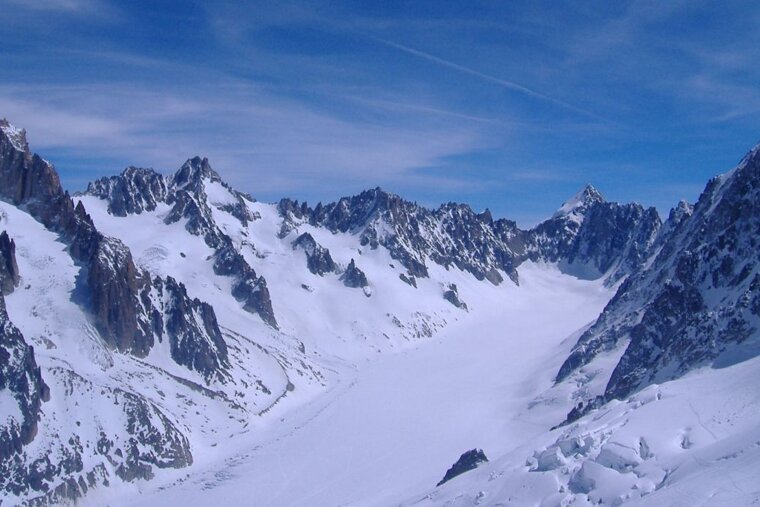 Glacier Wrapping
As glacier mass continues to deplete at an alarming rate, glacier wrapping is becoming more common in certain areas. The protective foil is a combination of polyester and polypropylene material which when placed on the glacier prevents the top snow layer from melting, essentially keeping the cold in and the heat out. The foil works by reflecting the sun's rays, thus protecting the glacier from heat extremes.
With the threat of up to 70% of Swiss glaciers disappearing in the next 30 years, the ski resort of Andermatt (Switzerland) decided in the summer of 2005 to wrap their disappearing Gurschen glacier. It's not cheap to wrap a glacier, and the cost to cover approximately 3,000m² of the Gurschen glacier was around €65,000, but by the end of the 2005 summer season the Swiss resort claimed to have successfully saved a significant amount of the glacier.
The resort of Andermatt was the first Swiss resort to trial the wrapping method. As other glacial resorts were watching on, Andermatt was heavily criticised by environmental groups who protested against the move saying that fundamentally it was a 'change in policy' that was required, rather than a 'short term fix'. Alexander Hauri from Greenpeace commented that covering the glaciers was 'absolutely absurd' and that climate change could not be combated by 'applying these oversized sticking plasters!' For Andermatt not only was it necessary to protect its glacier for ecological and environmental reasons, its continued presence is vital to the success of the resort as a top skiing destination.
Austrian resorts also started wrapping their glaciers in 2005. At the time of the Swiss wrapping, Wener Schnappauf, the environmental minister for the Bavarion (Bavière) region, also called for a renewed worldwide effort to protect the surrounding environment. Schnappauf claimed that at the current rate of global warming, the Zugsptize glacier on the southern slopes of Garmisch-Partenkitchen ski area in the Bavarian Alps (2,962m) would completely disappear within 20 years. One hundred and fifty years ago the Zugsptize glacier covered a terrain of around 329 hectares; this figure has reduced somewhat in the past few years with its coverage reportedly closer to a mere 98 hectares! It's a worrying statistic.
In June 2007 Val Thorens, Europe's highest ski resort, had hoped to cover 750m² of the Glacier de Chavière in the Vanoise National Park, but SETAM, the Val Thorens lift company failed to convince the powers that oversee the park, who rejected the plan on the grounds that the glacier is a part of the National Park.
A few of the glaciers that are currently using this technique across Europe include:
Gurschen Glacier, Andermatt, Switzerland
Mont Fort Glacier, Verbier, Switzerland
Zugspitze Glacier, Garmisch-Partenkitchen, Germany
Stubai and Pitztal Glacier, Austria
However, it's not really viable to cover an entire glacial area or the ice sheets in the Antarctic, for example, so for now this kind of move is only workable on smaller glaciers.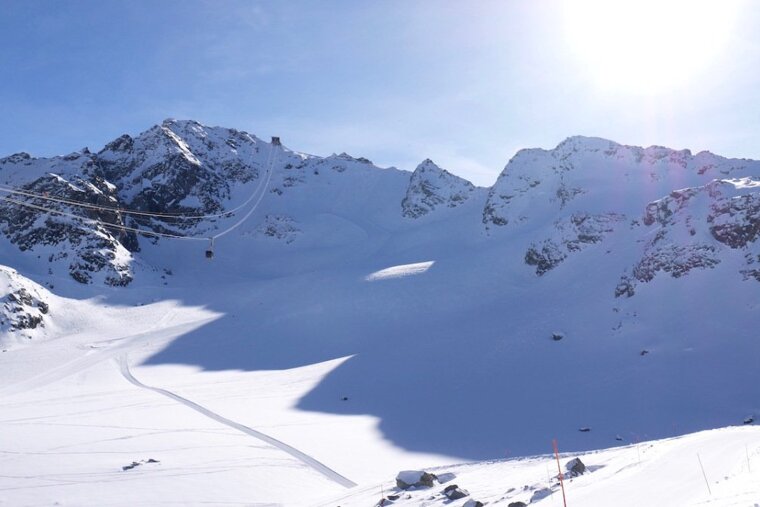 Will glaciers become a thing of the past?
A hard question to answer. The facts are that the Polar ice caps are melting, and if emissions continue to rise unchecked, the Arctic could be ice-free in summer by 2040. At a recent conference on climate change in Vienna, the sobering verdict reached by scientists was that 'by 2050 the vast majority of glaciers in the Alps will have disappeared'. The slow but steady retreat of the Alpine glaciers is almost tangible. In the Tyrol, Austria for example, an annual reduction of 3% (or 1m) has been observed. Given that the average depth of alpine glaciers is only 30m, experts are convinced that if the trend continues the only surviving glaciers will be those which form above 4,000m altitude.
Across the world the picture is the same. The Hindu Kush Himalaya Assessment found that at least 36% of South and East Asia's Himalayan glaciers will be gone by 2100. But, that's if global warming rates are curbed, if not, this figure would look more like 66%. The Furtwängler Glacier on Mount Kilimanjaro is expected by to be gone by 2060, and nearby Mount Kenya has lost nearly all its ice. Experts are now predicting that most African glaciers could be gone within decades.
According to the IPCC, by 2100 the glacier mass is expected to decrease by 35%-55% at the global scale, and by up to 90% in both Europe and tropical regions.
What glaciers will remain depends very much on the ability and political will to change the way we live our lives, reduce carbon emissions, invest in renewable energy and reduce global warming.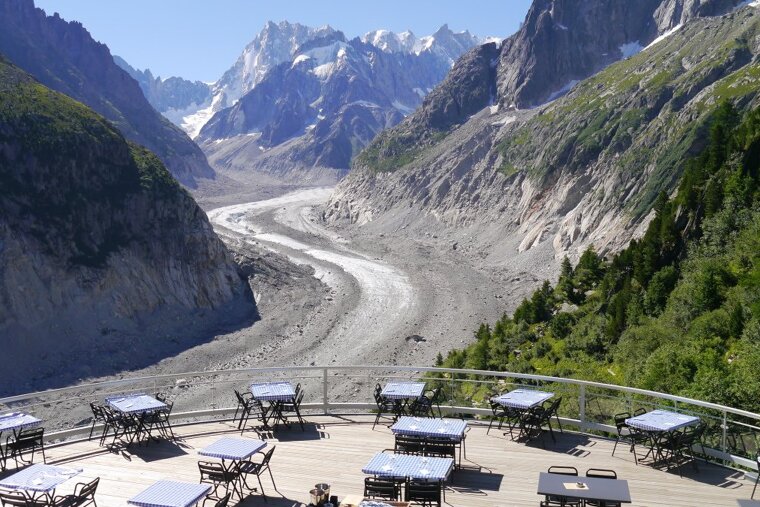 Glaciers in Chamonix
The glaciers in the Alps are especially vulnerable due to their size and thinness, and probably one of the most visual examples of 'Glacier Meltdown' is in Chamonix, France. Home to some of the most well known glaciers, namely Mer de Glace (sea of ice), Glacier d'Argentière and the Glacier des Bossons, all are pretty spectacular. Statistical analysis of glaciers indicates that many European glaciers have been steadily receding since the early part of the last century.
Mer de Glace (Sea of Ice)
This is one of Chamonix's most visited attractions and is France's largest glacier. This glacier has become one of the world's most visited natural sites and is a huge draw to visitors of the Chamonix Valley. The train to the Mer de Glace runs regularly throughout the year. However, in the recent summer 2022 heatwave, it lost 3.5m of thickness in June alone, that's nearly 10cm a day.
Argentière Glacier
This impressive glacier can be easily viewed from the top cable car or the Lognan mid-station at Grands Montets in both summer or winter. During the summer of 2005, the glacier experienced a substantial sérac collapse. A large 200m section of ice broke away from the main body of the glacier and at the time, it was reported to be one of the largest collapses seen in the area. Experts then predicted that if the pattern of warm summers and dry winters continued, this tongue part of the glacier would disappear in around 20 years. Since 2005, the distance between this 'tongued' area and main body of the glacier has increased quite significantly. Worryingly a recent study by the University of Grenoble predicted that based on current carbon emissions trajectory, the Argentière glacier will be gone by 2080, and the Mer de Glace by the end of the century.
Les Bossons Glacier
One of the lowest hanging glaciers in Europe, Les Bossons glacier is easy to spot as you're driving into the Chamonix Valley and is even more impressive from the other side of the valley. The stuff of legends, this glacier has gradually been ejecting parts of two planes that crashed back in the 1950's and more recently was the site of the discovery of a box of jewels from one of those planes. In summer you can take the small chairlift up to the view point overlooking the glacier and walking much higher up to the 'Jonction' you'll also be able to see its neighbour the Taconnaz glacier.
The long, hot and dry summers of the late 1990s and the early 2000s saw 'glacier melt' accelerate significantly, with the glacier losing some 20m in length and volume. In 2015, a heatwave throughout the month of July saw temperatures rise above seasonal average and the glacier lost several chunks of ice from the bottom.
Whilst these statistics can give cause for concern, the 1995 receding position of the Bossons glacier was actually comparable to that of 1952, where a natural period of glacial regression created a similar effect. It is in fact entirely possible that it's currently in a period of natural regression and has yet to reach a balance point where it can commence its redevelopment. It's bizarre to think that at the turn of the 20th century, religious processions were once organised to push back the Glacier des Bossons as it threatened the homes and farms below. Maybe the 'almighty forces that be' finally started listening a century later?!
Glacier du Tour
This glacier lies at the very top end of the valley, on the way towards Switzerland. You can see it easily from the parking area at Le Tour lift station, and there are a number of hiking trails that lead up to it so you can get a better view. Hike up to the Albert Premier Refuge for lunch, from where you are literally side by side with the glacier.
Bionnassay Glacier
This glacier can be found on the westerly side of the Mont Blanc massive in Les Houches. You get spectacular views from the Nid d'Aigle at the end of the Tramway du Mont Blanc and it's on the route of the Tour du Mont Blanc, so you can't fail to miss it if you're taking on this iconic walking route around the mountains.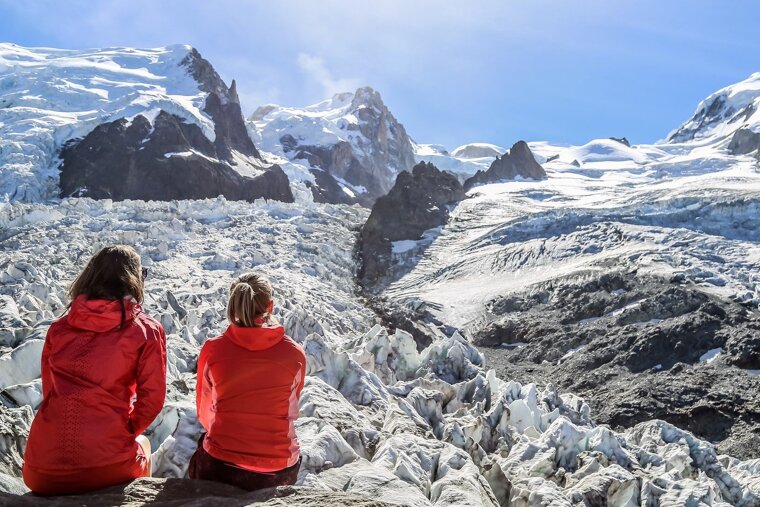 Protecting the environment
That very fact that you are reading this shows you are interested in the future the mountains and the outdoor arena in which you choose to place yourself every time you come on a ski holiday.
You can show your love of the mountains by supporting their cause, 'having their back' so to speak, and seeking out means by which you can contribute at both a local and international level. Supporting organisations that work to lead the fight against climate change, effecting not only small scale changes, but advocating for those that can make changes to policy at government level that will make a difference.
One such organisation is Protect Our Winters, a global group of pro-athletes, individuals, resorts, brand partners and enthusiasts, founded to unite behind a cause and actively engage the global snow sports community in the battle to slow climate change. Their latest strategic focus is to find low carbon mobility solutions that aid visiting the mountains in both summer and winter; push for a culture change that means rail travel becomes cool and smart, as well as practical; ending the fossil fuel subsidy that disincentivises a switch to lower carbon modes of transport; and engage the outdoor business community to pursue and promote carbon neutrality and publicly support solutions.
You can visit their website for more information on how you can help.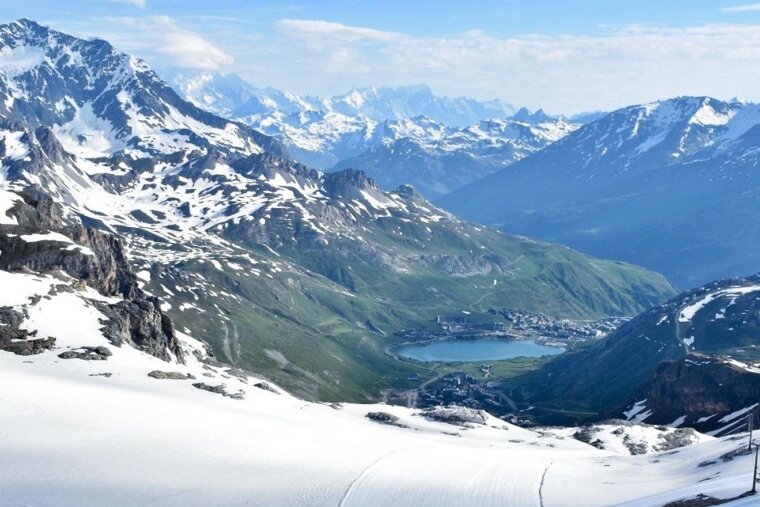 Environmental Tips
So now you're ready to do your bit, here's a few tips from us on how you can make a huge difference with a few small changes to how you may usually go about having a ski holiday:
Be aware of your environmental impact as skiers and boarders. Educate yourself about your environmental impact on the mountains, and what you can do to minimise it. This is a good place to start.
Leave no trace - do not litter the slopes. When the snow melts at the end of the season, litter left behind by the people that have been there will remain. Bin it or take it home with you. Did you know it takes up to two years for an orange peel skin to be absorbed by the earth; and shockingly a cigarette butt takes up to five years. If you find litter on the slopes, be responsible, do the right thing - pick it up.
Do your bit to reduce global warming on holiday and at home. In hotels, re-use your towels each day, and where possible recycle your household waste. Many French ski resorts now have excellent recycling facilities for plastics, cans and paper; glass and other waste. Additionally, if you're not in your chalet or hotel room, switch off electrical appliances when not in use. A TV that is viewed for less than one hour a day can actually use more energy when left on standby than it does during the time is being watched.
Encourage tour operators to adopt green policies. Find out if your tour operator offers train travel as an alternative to flying, do they use paper from sustainable forests for their brochures, do they use, for example, low-wattage light bulbs in their chalets and bio-degradable detergents, are those complimentary mini bathroom products recyclable and free of nasty chemicals.
Investigate whether your chosen resort uses environmentally friendly practices. Many resorts now use bio-diesel fuel in piste-bashers, solar panels for heating, hydro-electricity/wind energy for power and a host of other initiatives. Some resorts use the International Standards Organisation (ISO) 14001 as a mark of their environmental credentials.
Reduce CO2 emissions. By flying fewer miles, or switching from air to rail, you can help reduce the volume of greenhouse gases that contribute to climate change. When possible, use your bike instead of your car.
Respect the natural habitat of mountain animals and plants. If you ski through trees, you can damage them by knocking off branches and killing young shoots under the snow. Take care. Many areas are out of bounds to protect the natural habitat of animals and plants - not just safety reasons.
Recycle, recycle, recycle. If you're staying self-catering accommodation you'll need to take out the trash at some point during your stay. In most towns across France you'll find central points to get rid of your rubbish and recycling. These collections of giant bins (known as moloks) are the best and easiest way to recycle your holiday packaging and bottles. They are normally placed around towns at intervals so you will never need to walk far to find one.
More inspiration...
The link between climate change and melting glaciers is clear. There is no denying that their survival is intrinsically linked to ours along with the wildlife that calls them home. We must do what we can to protect them.