What's new this Winter in Val Thorens
From the ski area to what's fresh in the resort
As winter begins to take hold we take a look at all that's new in town and on the slopes.
Early signs of snowfall here in The Alps are creating much excitement for the upcoming winter season. The ski industry here is raring to go and this winter looks like being an exceptionally busy one. Val Thorens ski area opens on the 26th November and ski passes are on sale.
Having moved on from COVID, the good news is that the ski resorts are all going to be operating normally this winter, however the thing that may be on most people's minds is the current energy crisis. We have been following news from the ski resorts and whilst they are awaiting an update and directive from the government, the resorts, in the main, assure us that ski lifts will be running and the ski pass prices that have been published will remain in place. This current energy crisis is offering the resorts an opportunity to fast track many of their eco/environmental sustainable initiatives for example LED lighting, optimising the speed of ski lifts, the addition of GPS systems in the snow groomers for added efficiency.
Val Thorens is 50!
The highest resort in Europe nestled in the 3 Valleys and youngest of the big ski resorts celebrates its 50th Anniversary this year. Also an amazing achievement to have won the 'Best Ski Resort in the World' for 8 years running. Sounds like a great party in Val Thorens this winter!
Currently there are no COVID restrictions or regulations in place anywhere in France. Take a look at our COVID information page for the latest updates. (no longer being updated regularly)
Winter tyres
A reminder that it is now mandatory from 1st November to 31st March to have winter tyres (M&S marking, or all weather (4 season) tyres), OR at least two snow chains/socks in the vehicle when driving in the mountain regions in France, following a law introduced from November 2021.
Watch this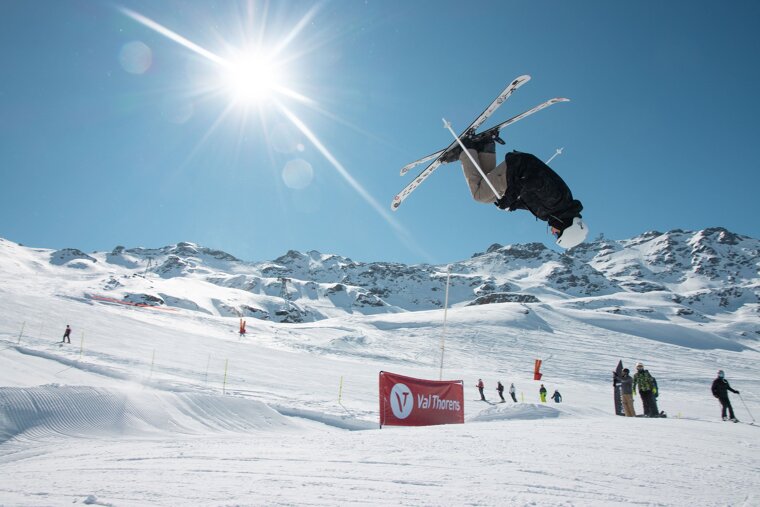 On the slopes
In line with the more ecological and environmental thinking that we are seeing being adopted in the ski resorts, Val Thorens uses Snow Sat technology to allow the piste bashers to groom the slopes intelligently and efficiently. This reduces fuel consumption and artificial snow production. A cartography system is in place in the resort to monitor snow depths which helps the snow grooming teams to know where to work.
Efficient ski patrol
Every ski patroller has a GPS in his vest to allow mountain operations to send the closest person to an incident. Val Thorens is the first in Europe to introduce drone surveillance too!
New link from Orelle
For the first time, the top of Cime Caron at an altitude of 3,200 metres is directly accessible from Orelle and La Maurienne due to two new cable cars, the Orelle and Orelle-Caron that can both take 150 people. Travel time is under 45 minutes and you can take luggage. This new link is now accessible for those on skis and on foot and allows visitors to reach Val Thorens via the Maurienne valley without skis.
New marked ski touring zone
This winter there will be a new avalanche secure marked ski touring zone comprising one groomed ascent slope and two descent slopes, one pisted and one unpisted in the Borgne sector. The zone can be reached from the Plein Sud sector.
Snowtubing
New this winter, a piste next to the Campagnol magic carpet dedicated to snowtubing. Enjoy an adrenaline filled ride on this bumpy slope!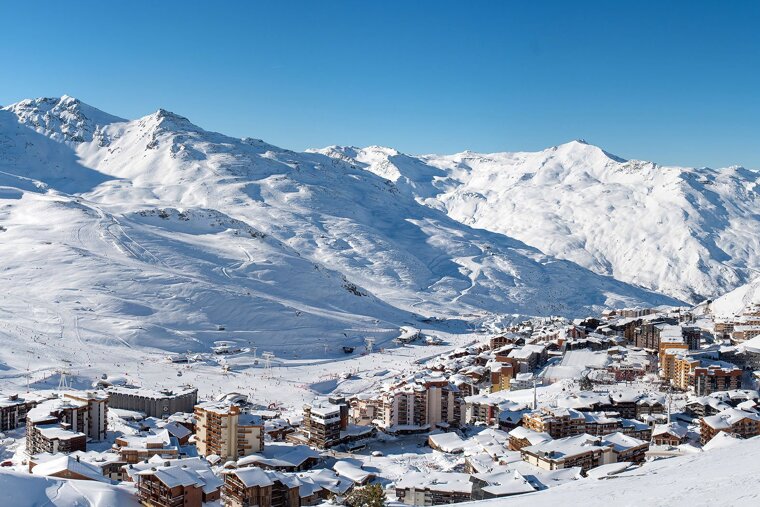 In the resort
Val Thorens makeover
A brand new amazing looking sports, wellness and cultural centre 'Le Board' opens at the beginning of December in the heart of the resort. A huge area for sports, games, public and sports events and business meetings and a huge aquatic space with 3 pools. The wellness zone features a fitness area, fun park, sauna, hammam, hot tub, ice wall, cold water plunge pool, sensory showers, baths and treatment rooms. The new bus station will be integrated with a waiting room, baggage area and welcome point. This new hot spot will have something for everyone. Even more reasons to visit Val Thorens.
New Streetwear shop
Sunvalley has opened a new shop on Rue Caron. This french brand founded by two ski mogul fans has a new collection of stylish fun streetwear.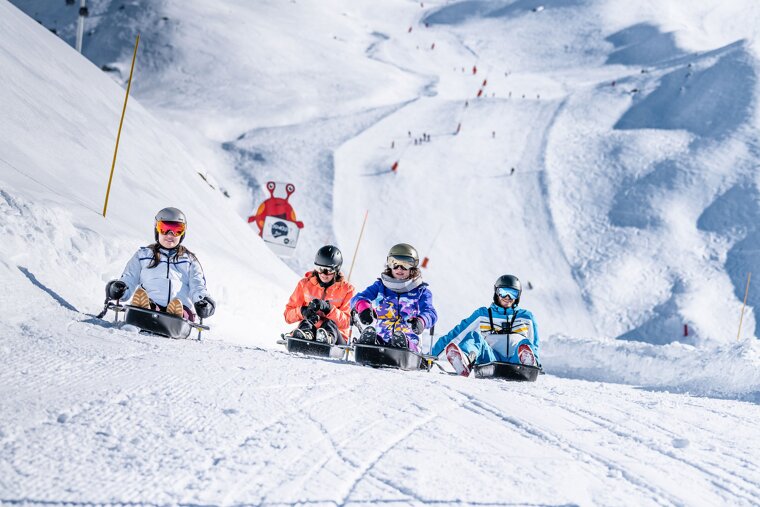 Kid and families
Redesigned fun zones
The kids can now enjoy a fun zone in space, discover the cosmos and the moon. And if you are hunting for Val Thorens mascot Valthy and his friends, you'll likely find them on two new slopes and fun zones, the new Space slope (piste de L'Espace) is a VT funride with arches, a tunnel, music and moguls. The 'Experience spatiale' is a VT family park designed for families and beginners with great fun experiences including rolling jumps and slalom. You'll also find a new chilled picnic zone to rest in after all the space adventures.
New fun park
The brand new fun park at the huge new 'Le Board' sports, wellness and culture centre will be apres ski kids style! Various activities in different zones including trampolines, ninja warrior course, ball pool and an education area for the 1 - 5 year olds.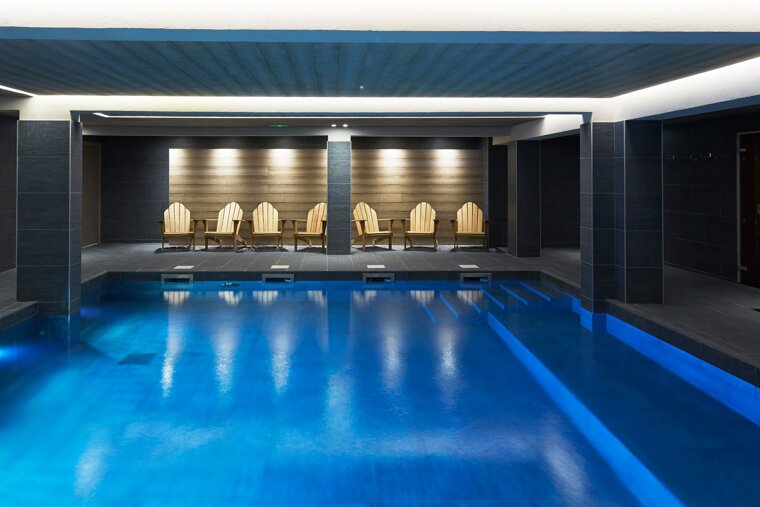 Hotels
Le Fitz Roy, this 5 star hotel has added 14 new suites and rooms this winter. The new suites feature a private hot tub.

Le Fahrenheit 7, 4 star hotel has undergone a renovation and redecoration of many of their rooms. Their spa will now offer and use Rituals products in the spa. Check out their great apres-ski and live music programme too!
Hotel 3 Vallees, a mountain boutique 4 star hotel, has been renovated inside and out creating a great cocooning cosy atmosphere and mountain vibe using old wood and thick plush carpets. They now offer duplex suites of 45 sqm.
L'Altapura has new owners, EODEN in collaboration with Beyond Places. This 10 year old, 5 star hotel has been renovated in ya 70s Charlotte Perriand style. You'll find Savoyard nature mingling with Danish ceramics, graphic textiles and larch wood in an art deco with a mixture of the arts & crafts and modernist styles. Sounds amazing right!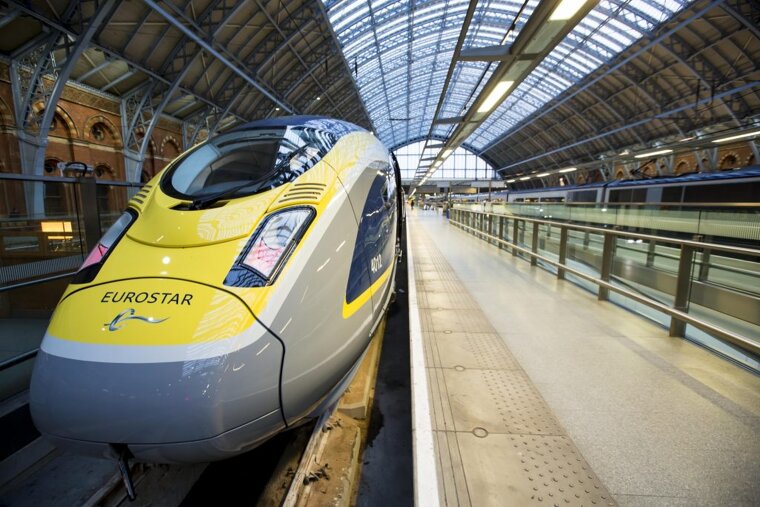 Travel
Snow Train reborn
This direct rail service between London St. Pancras and Moutiers has been relaunched and renamed the Travelski Express. The service is being run by the Compagnie des Alps which has chartered the train from Eurostar in a bid to encourage British skiers to travel in an eco-friendly way. The service departs on Saturday morning and returns to the UK on a Sunday morning. It's only a 45 minute ride to Val Thorens from Moutiers and there are shuttles linking the resort and bus station.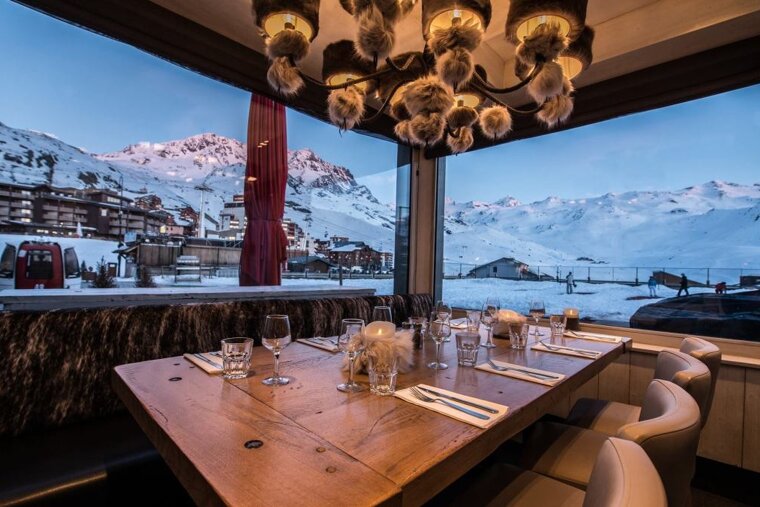 Restaurants
La Maison although not a new restaurant, has been refitted and the kitchens redesigned to create an authentic French brasserie style. The award winning chef Cyril Attrazic has developed a creative new menu, all this to celebrate their 10th anniversary.
La Face Ouest, again not a new restaurant but has had a major refit taking in elements of wood, stone and velvet to create a warm atmosphere. A brand new big Italian oven in view of the diners has been installed which sets the tone for the menu.
Events
There's a diverse range of events to suit everyone in Val Thorens this winter, Ice driving racing, FIS Ski Cross World cup, Freeride Junior qualifying, Enduro competition, electronic music festival and more all on our events calendar.