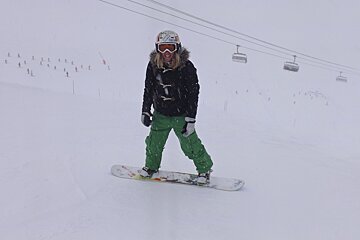 Bad weather ski areas in Val Thorens
Discover the top Val Thorens bad-weather skiing
When the clouds come in and the light turns flat it can be hard to know where to ski and what to do. The high, open pistes can lack the contrast required for orientation during white out conditions and slope and sky can blur into one.
Book My Ski Hire Book My Ski Lesson
The one disadvantage to the vast and great ski area of Val Thorens is the lack of trees and, therefore on bad weather days it can be hard to find an area to ski where the visibility is better. However there are certain runs that offer more contrast , the trick is to head for the pistes that are tree-lined, as they help provide definition when everything else seems to be white.
When visibility is difficult due to snow or white-out, there's one important thing to remember when you are on the slopes: keep the poles that line the pistes in sight. The poles marking the edges of the piste are the colour of the difficulty of the run (green, blue, red or black). Have you ever noticed that the poles on the right side of the piste (looking down) have a 20 cm band of orange at the top? This is so that in a white-out when you really can't see very much, if you come across a pole with an orange top, leave it on your right. If the pole is one colour all the way to the top, leave it on your left. That way you'll stay safe & on the piste!
If you are up the mountain and the visibility closes in then why not try heading to the lower pistes near resort as these may be below the cloud and you might be able to catch a few good runs. Try the pistes that come off the top of the Cascades chairlift such as the gentle blue Dalles or harder black Cascades piste. Head up the Plein Sud and take the gentle blue piste down to the bottom of the Cairn bubble.
Alternatively if the cloud is sitting in the valley it is worth bearing in mind that it might be clear high up the mountain, just make sure you head up a bubble or cable car as if the weather is still bad high up you will probably want an easy route down. Check out our webcams and see what the weather is like up the beautiful Val Thorens mountains. Also if it is snowing in the valley then it will usually mean it is snowing up top, making for great skiing and quiet pistes!