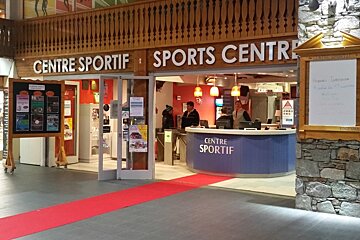 Sports Centre, Val Thorens
Indoor & outdoor activities in Val Thorens sports centre
A sports centre of 7 500 m² in Val Thorens.
Indoor
Aqua-spa including 2 swimming pools, jacuzzi, steam room, sauna, relaxation area, river showers.
Funpark for children with Bouncy Castles, Trampolines, Ball pools, children areas, over 600m2 of safe fun for children.
Spa area with body & face treatments
Gym with weights, cardio equipment
Sports : 3 multi-sports grounds (tennis, football, volley ball, hand ball), 2 squash courts, 30 ping-pong tables, 6 badminton courts, basket ball court
Multi-usage halls : concerts, sporting meetings (wrestling galas, boxing, roller-skating), meals (+ than 1000 people), gala evenings, diner dances/shows, prize giving.
Outdoor
Location