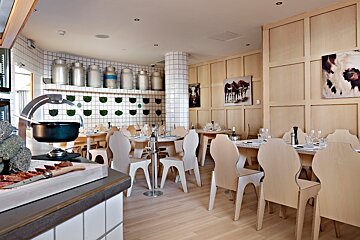 © Maisons & Hotels Sibuet
La Laiterie Restaurant, Val Thorens
A smart little restaurant with a good choice of fondue flavours
Truffle fondue with champagne, anyone? You can choose from a few different flavours of fondue in this restaurant, each of which harks back to a different region.
Each fondue combines two cheeses from one particular region, carefully selected by a master cheesemaker. A young, well-balanced cheese is picked notably for its soft, supple texture and another cheese matured over a longer period chosen for its rich aromas and fuller flavour. The combination of the two creates a fondue that is creamy in texture with a unique flavourful taste. And to make it thoroughly regional, the third and final ingredient, the wine is also produced in the same region!
Once you have made your choice, you can taste the two different cheeses and the wine before they are melted together. A unique culinary experience to discover the cheeses' initial aromas plus the flavours created by the magic of cooking. The choice is yours!
You'll find them at the Altapura five star Hotel.
Location