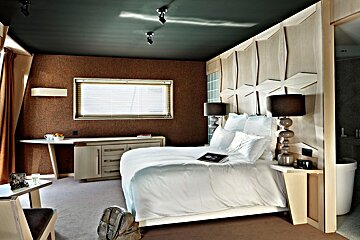 © Maisons & Hotels Sibuet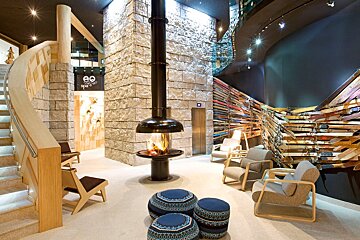 © Maisons & Hotels Sibuet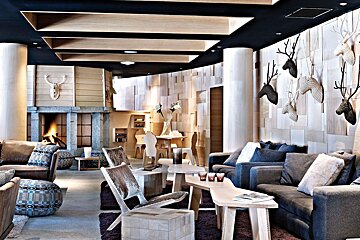 © Maisons & Hotels Sibuet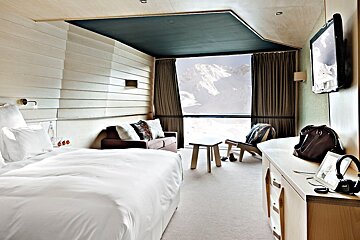 © Maisons & Hotels Sibuet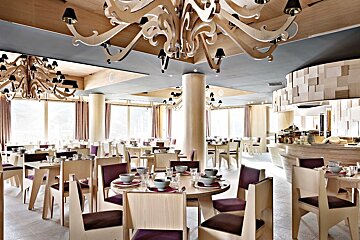 © Maisons & Hotels Sibuet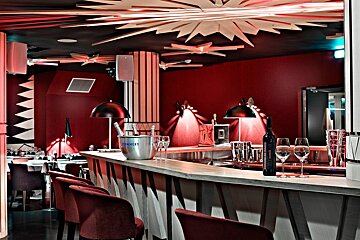 © Maisons & Hotels Sibuet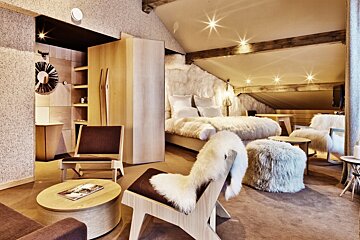 © Maisons & Hotels Sibuet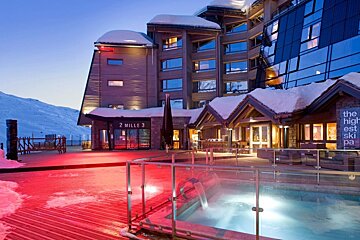 © Maisons & Hotels Sibuet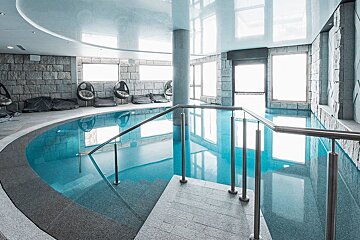 © Maisons & Hotels Sibuet
Altapura Hotel, Val Thorens
Ultra-modern and luxury hotel, the highest 5* hotel in Europe
This hotel opened in November 2012. Situated at 2300m, it has been inspired by Nordic design and offers 88 contemporary rooms, all with spectacular views.
It is part of the Sibuet Hotels and Spa portfolio, founded by luxury French hotelier and interior designer, Jocelyne Sibuet. The 1,000sq m (10,800sq ft) Pure Altitude spa has seven treatment rooms and has been designed with the skier in mind, offering a wide selection of treatments dedicated to muscular relaxation, physical preparation and recuperation.
Active ingredients of Edelweiss and other mountain minerals are used in Sibuet Hotels and Spa's own product brand, Pure Altitude Spa. The relaxation area includes the Nordic Spiral, which alternates dry and humid heat, punctuated by waterfall showers, a tepidarium, snow treatments and culminating in an Igloo. The extremes of temperatures stimulate the blood oxygenation, minimising the aches and pains of a day on the slopes. There is also a heated pool.
The hotel also offers three restaurants serving a mix of haute cuisine, fondues and hearty dishes from the rotisserie. Other adrenaline fuelled activities are also on offer at the hotel, including snow driving, tobogganing on the longest run in Europe, dog sledding, glacier hiking and airboarding. The hotel's season is from 30th November until 1st May.
Reviews
958 verified reviews by
The Bar
With three areas to enjoy in this bar you can be sure to find a space that suits your mood. The terrace where you can relax in a sun lounger and have a cup of hot mulled wine at any point during the day, but also the perfect spot to welcome back friends and family who are still on the slopes.
The lounge area where you can get cosy and relax with a roaring fire in a big armchair. Or when the mood takes you there is 'Les Enfants Terribles' where the music starts and the champagne flows!
The Restaurant
A choice of three restaurants in this hotel. A chic mountain-style brasserie, serving classic dishes in a fun and glamorous atmosphere. A buffet and rotisserie restaurant with a mix of fresh and cooked meats, fish and Asian fusion food. Perfect for lunch or dinner. And La Laiterie, a menu full of cheese! What ski trip is complete without a fondue at the end of the day.
Visitor comments
"This a fabulous 5 star hotel with just about everything. Has a great spa, pool and gym and an outstanding restaurant with a great menu to please everyone. The staff are great and very helpful. The rooms are fully equipped with the latest technology and offer great views of the piste." - Trip Advisor
"The hotel is modern clean in the best possible place for skiing. It's is easy to get back to at lunch time when you have a 4-year-old in your group, have lunch and relax on the sun terrace watching the world ski by. Swimming pool open from 7 am to late is great. The room we had was brilliant the views were magnificent, beds were comfortable, bathroom was also spacious. The staff were friendly, helpful, knowledgeable, this is a relaxed comfortable home from home that you can actually ski out of and back to." - Trip Advisor
"Just returned from a week in Val Thorens, and the Altapura really lived up to expectations. From the moment we arrived we felt welcomed , and nothing was too much trouble. The style was very modern with nice alpine touches. Our adjacent rooms were certainly large enough, and very luxuriously fitted including separate bath and walk in showers. We overlooked the patio and pool area, and were pleased how quiet it was. The location is excellent right on the slopes, genuinely ski in/ski out." - Trip Advisor
Check-in Time
Check-in Time: From 16:00
Check-out Time
Check-out Time: Until 12:00 noon
Child policy
Children are welcome at this hotel. Children under 2 years are charged EUR 25 per person per night for children's cots/cribs.
All older children or adults are charged EUR 140 per person per night for extra beds.
A specific children's area is open daily from 12:30 until 20:30 at no extra charge for children aged between 3 and 12 years.
Location