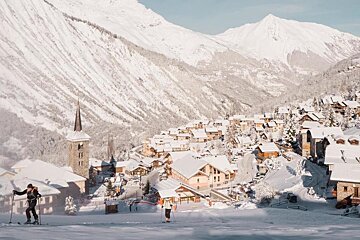 © St Martin de Belleville OT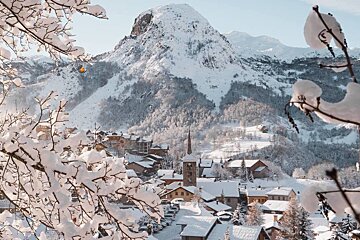 © St Martin de Belleville OT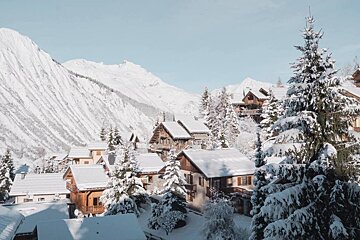 © St Martin de Belleville OT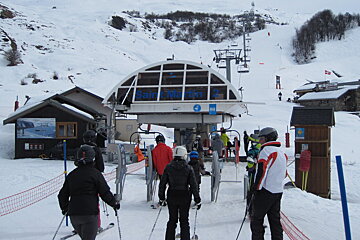 St Martin de Belleville
The lowest resort in the Belleville valley at 1,450 m
The little sibling resort of Val Thorens and Les Menuires, St Martin sits at the bottom of the Belleville valley and has bags of character.
Connected by lifts to the extensive Three Valleys ski area, you can explore to your heart's content in winter and summer. The village of St Martin has a small selection of gift shops and ski shops along with some fantastic patisseries and a small supermarket for essentials.
History & Culture in Saint-Martin-de-Belleville
St Martin was the last resort to join the Belleville ski area, being developed in the 1980s. Greater care was taken with regards to the architecture and layout thus preserving the French village feel. The local style was respected and the size of the development restricted, which is definitely evident now when comparing St Martin to other resorts. The village implements limited height restrictions for building projects, and traditional architecture has to be adopted with visible stonework and slate roofs to keep the style. Development continues today in the same vein with few large hotels and the concentration largely on renovating existing buildings into chalets.
Sights & Attractions in Saint-Martin-de-Belleville
St Martin is often described as a French village with a ski lift, being a really picturesque destination rather than a purpose built ski resort. Being in a central location you have fantastic views towards Meribel/Courchevel to the left and Les Menuires/Val Thorens to the right, perfect on bad weather days to assess the best place to ski. In the summer areas that are out of bounds during the winter such as Vallée des Encombres open up for great walks with cascades and refuges.
Things to do in Saint-Martin-de-Belleville
St Martin is the lowest resort in the Belleville Valley at 1,450m but has a great central location to access the Three Valleys ski area. Along with skiing and snowboarding there are also great cross-country skiing tracks and walking paths from St Martin. If you want a more relaxing way to enjoy the snow you can hop on the dog sled which runs along the track towards Châtelard with outings from 30 minutes to one hour available. In the summer months St Martin has some fantastic mountain bike tracks with the lifts open two days a week to access the full Three Valleys area. There are some fantastic walking routes to explore which are easily accessible without opting for a ski lift. The detailed walking maps give a coloured grading for the level of difficulty. An area normally off-limits during the winter months opens up for a great via ferrata route up to Le Cochet just above St Martin. There is also a great forest adventure circuit for children and adults along with horse riding and archery.
Dining in Saint-Martin-de-Belleville
St Martin has some fantastic restaurants including the Michelin-starred La Bouitte who have recently received their third star, and the well-known Montagnard restaurant. Taking it down a notch you have La Voute with a varied and good quality menu and in a central location opposite the church. For a good value 'menu du jour' and a terrace at the bottom of the slope there is the L'Eterlou. If you are just looking for takeaway you can visit O P'tit Snack or check the dates for Pizza del Capo who visit a different hamlet of St Martin each evening.
Nightlife in Saint-Martin-de-Belleville
There's no beating around the bush, St Martin is a quiet ski resort with just three bars open in the evening. For après you have La Loy on the bottom of the Biolley piste to enjoy the last of the sun. In the village, there is La Dahlia and Alp'Hotel at the bottom of the St Martin 1 ski lift. Into the evening there is the Pourquoi Pas Bar with live music, Le Joker Bar offering a real French bar feel and Le Billig Bar with pool table, table football and sports TV.
Chalets in Saint-Martin-de-Belleville
There are lots of self-catered and catered chalets on offer, some extending into the surrounding hamlets of Chatelard and Villarabout.
Hotels in Saint-Martin-de-Belleville
There is only a handful of hotels in St Martin with the main accommodation tending to be away from the resort's centre.
Location