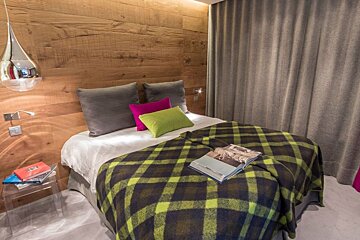 © Pashmina Hotel, Val Thorens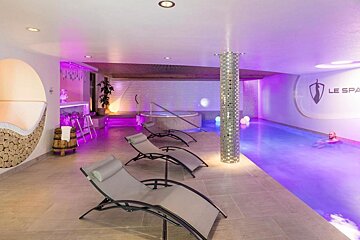 © Pashmina Hotel, Val Thorens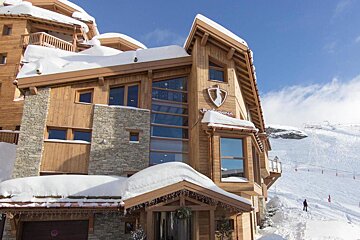 © Pashmina Hotel, Val Thorens
© Pashmina Hotel, Val Thorens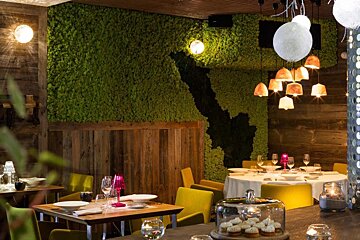 © Pashmina Hotel, Val Thorens
Pashmina Hotel, Val Thorens
Five-star hotel with a spa & an 'igloo pod' on the roof
This luxury hotel is located at 2,350m altitude in Val Thorens and gives you access to the 3 Valleys ski area, the largest in the world.
There is free WiFi access throughout the hotel, a library with lounge and fireplace, business centre, a bar with a sunny south-facing terrace and a spa with wellness area and treatments.
You can hire ski equipment from the Goitschel Sports ski shop, and store your gear overnight in the ski lockers which come with boot dryers and direct access to the slopes.
The hotels offers a free shuttle bus to the village and there's a covered car park if you are self-driving.
Whilst staying at the hotel you can choose from a variety of rooms and suites, a 'super suite', a chalet-apartment or the unique 'igloo pod' room which opens out onto the sky!
Reviews
279 verified reviews by
Worth knowing
Every Wednesday the hotel invites you to a gourmet excursion even higher up the mountain, at 2,500m in the Chalet de la Marine. Just reaching this chalet - the highest in the Val Thorens resort - is no mean feat! Visitors must travel by snow truck or snowmobile- a unique experience. Specialities include fondue, tartiflette, pot-au-feu and many other regional dishes.
The pool
The Spa by L'Occitane offers a wellness area inspired by the charm, comfort and unspoilt heights of Val Thorens. Treat yourself to a moment outside of time and space in one or Europe's highest spas.
The Bar
The bar is elegant and comfortable, with exceptional views of the mountain. Curled up in an armchair by the chimney or on the terrace, make the most of these superb surroundings to reflect upon your day's skiing or to prepare the next day's adventures. Sit back and relax, have a drink or an aperitif sharing board, while enjoying the live music.
The Restaurant
The hotel has two restaurants: Restaurant Le Base Camp offers quality produce and authentic, refined dishes to be savoured in a relaxed atmosphere with the mountains as a backdrop. Treat yourself to a feast for both the eyes and the palate. Restaurant Les Explorateurs offers gourmet dining.
Visitor comments
"Exceptional hotel, fantastic staff, super comfy bedroom (we had a suite), gorgeous food. The Igloo was amazing - though be prepared to be woken at daybreak (no curtains). Spa beautiful. We'll definitely be back!" - Trip Advisor
"This hotel feels intimate and cosy, the decoration is eclectic and there are little touches everywhere. The staff are excellent and remembered our names every day. Room is lovely and perfectly clean. The restaurant food is excellent, and the breakfast is the most well-stocked I've ever seen. Plenty of sofas/chairs/cushions everywhere, and fires always on. Spa is very good - sauna/steam room/jacuzzi and the perfect outdoor jacuzzi overlooking the slopes." - Trip Advisor
"We had a fantastic six night stay at Hotel Pashmina in late April. Everyone that worked at the hotel was incredibly kind and helpful. The room was beautiful, clean and very comfortable. The spa area was very nice with a beautiful pool, two jacuzzis (one inside, one outside), sauna, steam room and several special showers. The breakfast buffet was one of the best we have experienced in Europe. The dinners were delicious and the daily specials were all fit for a foodie." - Trip Advisor
Location