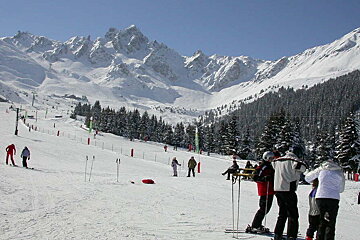 Courchevel Ski Area
Plenty of choice from cruisy blues for beginners to expert off piste areas
Courchevel sits on the northern side of the Three Valleys ski area and is connected by ski lifts to Meribel (in the middle) and Val Thorens and Orelle at the far side and southerly edge.
Courchevel has in the region of 52 ski lifts giving access to ski terrain ranging from 1350m to 2738m altitude and ~150km of pistes (see the piste maps). This ski area is varied with plenty to keep all levels of skier and snowboarder occupied and can be split into three main ski areas: La Tania, Courchevel (1850) and Courchevel Moriond. With 150km of piste skiing and 617 snow canons, you'll find snow-sure terrain suitable for any skier.
Courchevel (1850)
This part of the ski resort has it all - a beginner and intermediate skiers paradise, Europe's steepest black run and mountainous off-piste terrain. For those just starting out the lower slopes around Courchevel Village are perfect. They can be easily accessed by gondola and there's a separate fenced-off beginner area. For piste skiers, there's plenty of variety. Steep runs lead down from the top of Saulire, with the Grand Couloir claiming the crown as Europe's steepest run. From here, it's possible to ski down to Le Praz at 1300m which is more than 1400m of descent! Slightly mellower red runs fill the space between Courchevel and Courchevel Moriond with the excellent Creux, Jean Pachot and Park City. Powder skiers can take on the couloirs of Saulire and the serious terrain in the Creux Noirs bowls. On a white-out day head below 1850 to the trees around Le Praz. The Family Park alongside the Verdons piste is ever growing in popularity as more and more features are added each year, from the gnarly red kickers and quarter pipe to the gentle ski cross, the Family Park has something for everyone. If you want to take a quick break, why not climb into an igloo and rest those weary legs.
Courchevel Moriond
Courchevel Moriond catches the last of the evening sun so it's a good place to finish the day. With long, mellow reds and blues aplenty it's a great place to work on your technique. There are a few gems when it comes to powder skiing in Moriond. The tree skiing around Roc Mugnier, Chapelets and Gravelles are a great place to head in white-out conditions. For something a bit more serious then the Roc Merlet face is a short hike with huge rewards. To top them all though is the off-piste run through the valley of Les Avals, starting from the top of Pyramide lift and descending all the way back down to 1650. It's well worth booking a guided lesson with an instructor to get the most out of the area. New Generation Ski School offer a good range of off-piste options at reasonable prices.
La Tania
The La Tania ski area has a great variety of skiing above the resort. For piste-lovers, there's the black run Dou des Lanches which then connects to the awesome Folyeres, a blue run which winds down through the trees into resort. There's not a great deal for beginners here but the addition of Plan Fontaine, a green winding run, has made it easier to get back to resort. If you're looking for powder then there are two areas above La Tania that are worth a mention. The face of the Rocher de la Loze, known locally as the Freeride Face is only for the most experienced skiers. It is accessed via a hike with steep chutes, big drops and tight couloirs aplenty. Lower down, underneath the Dou des Lanches lift, there is more easily accessible powder, cliffs, steeps and trees which makes for some awesome and varied terrain.
Watch this
Beginner areas in Courchevel 1850
Courchevel has a number of areas that are designated and created for beginners. These Easy Rider areas are known as 'ZEN' (zones for the Evolution of Novices).
Pralong ZEN
In Courchevel (1850) there is the Pralong Zen area which is situated next to the Ferme and Altiport drag lifts, this large beginners area makes for a great place to start off on skis or a snowboard. With the easy drag lifts you can start off with the shorter Ferme and when you have built up a bit more confidence you can tackle the slightly longer Altiport drag lift.
Golf ZEN
There is also the Golf Zen area, also in Courchevel (1850), which is next to the Jardin Alpin bubble lift and is a little smaller than the Pralong Zen area but it has two magic carpet lifts to get you started. This area is great for children learning to ski.
Mickey ZEN
In Courchevel Moriond there is a fenced off area exclusively for beginners serviced by a free drag lift (called Mickey) where you can get your confidence without having to deal with a lot of other skiers.
Envolée ZEN
Courchevel Le Praz also has a beginner designated area called Envolée Zen, located next to the Envolée drag lift.
The whole area above Courchevel Moriond and Courchevel itself from the Verdon bubble towards the resort are a paradise for beginners. Hundreds of man-hours of preparation go on every night to ensure the pistes are absolutely perfectly groomed at 9am every morning. These pistes are wide and shallow as they approach the lower part of resort and with a selection of different greens you can practice what you have learned and build confidence as you go. These slopes give you the opportunity to get back to resort without losing your confidence, even when you are tired at the end of a long day up the mountain.
Advanced areas in Courchevel 1850
In the higher parts of the ski area in Courchevel, you'll find some more challenging red and black pistes and mogul fields. Some of the couloirs at the head of the valley offer great steep skiing and more challenging terrain, particularly those at the top of the Saulire cable car.
The Couloirs and steep black runs are the ones that everybody talks about. Courchevel is known for having some of the worlds hardest and most challenging black runs, so it is definitely one to head for if you fancy a challenging skiing holiday. The Couloirs at the top of the Saulire cable car are the ones that people challenge themselves with the most, there are two official pistes that are a Couloirs, the Grand Couloir, which notably is the easiest of the bunch but still a challenge, the rest are no longer pistes but can still be tackled and enjoyed. The other is Couloir Tournier which takes you into Meribel.
There are also plenty of black pistes with steep and tough moguls. A selection of these can be found at the top of the Susses lift, the top of the Vizelle bubble and the top of the Saulire. This area around the Saulire and the Creux Noirs will definitely provide plenty of advanced skiing, with the high altitude and steep gradient you can whizz down a number of tough reds and blacks.
If you are staying down in Courchevel Le Praz and you want a challenging run to finish your day or you just fancy an advanced piste through the trees then head down the Jean Blanc from the top of the Plantray or Bouc Blanc. This black piste runs through the trees in the valley making it the perfect challenge for a bad weather day or wonderful views when the sun shines. You can also challenge yourself on the black pistes that sit above La Tania, the Dou des Lanches is definitely one to try.
Snowparks in Courchevel 1850
Courchevel has a family park with more gentle, smaller features as well as a park for those looking to progress their freestyle skills and big air. With boxes, rails and kickers suitable for most abilities, there's something to suit everyone, as well as a giant airbag.
The Family Park in Courchevel is getting bigger and better as every winter rolls by. Located alongside the Verdons piste just above the village at 1850, the park is sure to entertain all levels of freestyle rider. The novice freestylers can try their hand at the gentle snow cross course, the speed gun and an array of green kickers and boxes.
For those looking to push themselves, there is plenty to dig their teeth into (metaphorically, of course. Nobody wants to hit a box and ruin those pearly whites!) The red kickers in the "Big Air" section are closer to black grade than red. The blue boxes, quarter pipe and swimming pool give ample opportunity to get the legs popping and the skis and boards spinning.
Of course, there's the airbag to test out all those gnarly new tricks without the fear of injury. Starting at 3€ for one jump, five jumps of 10€ or hourly rates, there's plenty of time to master those backflips and 360's.
Best pistes in Courchevel 1850
Courchevel ski area has plenty of cruisey blue pistes, perfect for intermediate skiers as well as some more challenging red and black runs.
Best pistes for intermediate skiers
Combe Saulire before 9.30 in the morning. Why so early? This red run becomes busy once the lifts from Courchevel reach it. But both Méribel and Mottaret gondola lifts get there earlier, so hit first lift and make this the first run of the day. It has the best snow possible, which is invariably groomed into immaculate condition each night. Nominated by Ed Wooley, Director Parallel Lines Ski School.
The cruising blue runs above Couchevel-Moriond 1650 are wonderful for intermediates or when you just want some easy skiing in beautiful scenery. This area remains uncrowded even in the busiest of school holiday weeks. Search out little-used Grandes bosses and Gentiane for the ultimate in relaxing skiing.
Best pistes for advanced skiers
Chapelets feels as close to 'back-country' skiing as you can get without leaving the piste. The scenery is stunning and it's always quiet. Nominated by Anne Wooley, Director of Ski Cuisine. Chapelets also great to hit first thing in the morning when it is freshly groomed as you can whizz down. It starts off steep and then it gets more gentle but it is a favourite among many.
Another few of our favourites are Jean Blanc which is a fast black but it has lots of off-piste connecting it with large moguls also the Dou de Lanches which is a black run just above La Tania, it is steep and speedy but great!
Off-piste areas in Courchevel 1850
The tree areas in Courchevel are great for catching some fresh snow and playing off piste - just make sure you have a helmet on and have taken all the safety precautions necessary. With a short hike from the famous Grand Couloir piste, there is excellent off-piste skiing in the Petit Couloir or in the Croix de Verdons Couloir if you don't mind climbing a little further. Also, the Equinox pitch, a 15-minute hike from the top of the Chanrossa chair, is one not to be missed out on a powder day.
There are also the well-known off pistes of Col du Fruit and Vallee des Avals. They take you far away from the pisted area. We recommend as with all off-piste, especially those that are far from the pisted areas, that you have a mountain guide. In the 3 Valleys area, it is crucial to have a 3 Valleys pass as you never know which town you will end up in after a day in the powder.
Ski itineraries in Courchevel 1850
It's easy to become bewildered by the choice of 330 pistes that are available in the 3 Valleys, so we (and our intrepid snow reporters) have compiled a handful of routes that we hope will help you discover new terrain in this enormous ski area. Follow these routes to discover the best pistes, best snow, great views, where to eat and where to go on those bad weather days.
Bad Weather areas in Courchevel 1850
Visibility tends to be better in amongst the trees when there's a whiteout as they give definition to the otherwise merging sky and pistes. So it is always good to head for tree-lined pistes, the black runs into Le Praz (Jockeys & Jean Blanc) or the red run (Brigues ) are in amongst the trees so should provide better visibility on a bad weather day. The long blue run (Folyeres) into La Tania is also a good bet with trees lining it and a lower altitude the cloud may not be as thick here.
If you do want to head out on a bad weather day then some of the pistes coming into Courchevel and Courchevel Moriond are tree lined so it might be worth doing a few laps of these lower runs as up top the terrain is stark and there are not many trees. Try the red Loze, green Verdons and some of the blues that go all the way down to Courchevel Moriond.
Check out our webcams to see what the weather is like up the mountains before heading out on a bad weather day.
Location