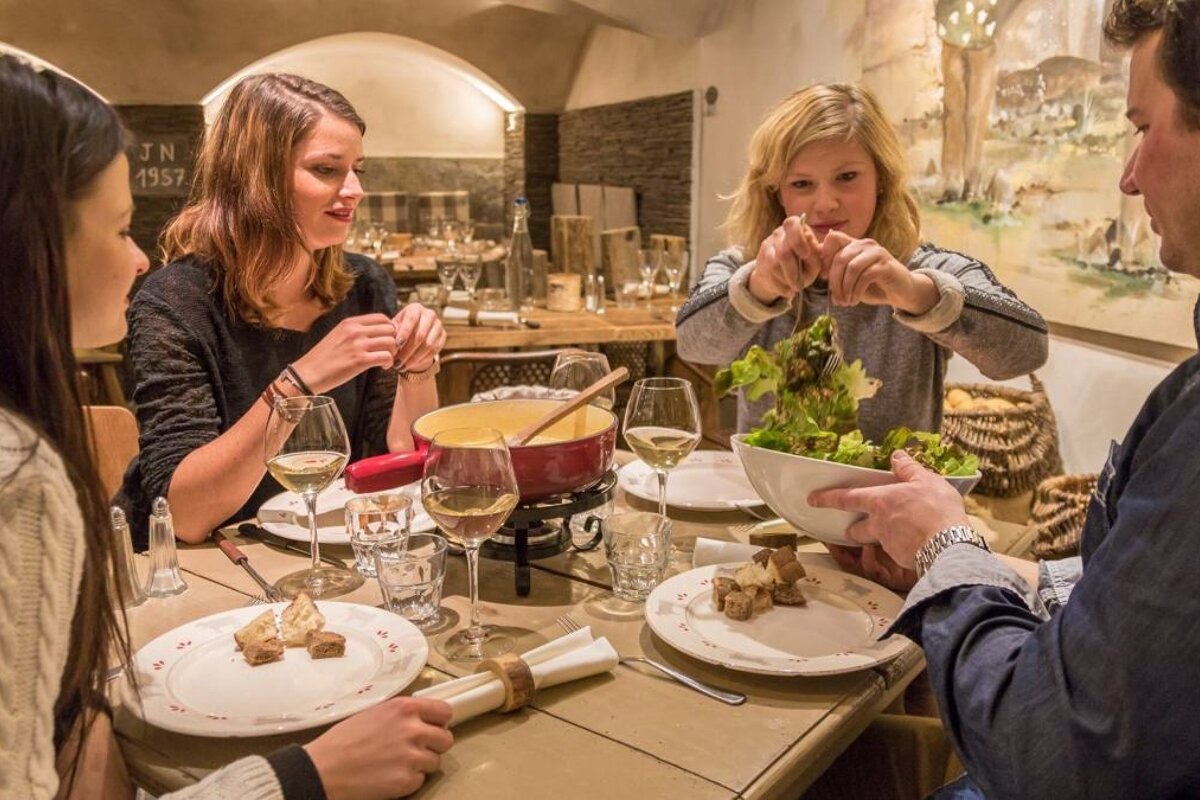 Best fondue in Val Thorens
Cheesy treats to refuel after a day on the mountains
A ski holiday is not complete without making sure you have had your fill of French cheese.
What better way to enjoy that than with a lunchtime or evening fondue! Here is a round-up of some of the places to head for in Val Thorens.
La Laiterie
La Laiterie Restaurant is part of the 5* Hotel Altapura on the 'Rue du Soleil' and they are not joking around when it comes to fondue. All cheeses on the menu are selected by the master cheesemaker Frederic Royer, of the Boujon cheese shop, and all wines are carefully selected by sommelier Franck Bernet. This talented duo chooses both cheese and wine from the same region for each recipe on offer on the menu. There is also the opportunity to taste the cheese and wine before they go into the fondue for those with a refined palette. With a really modern 'laiterie' themed interior, it's a lovely restaurant to spend the evening and to taste some great French produce.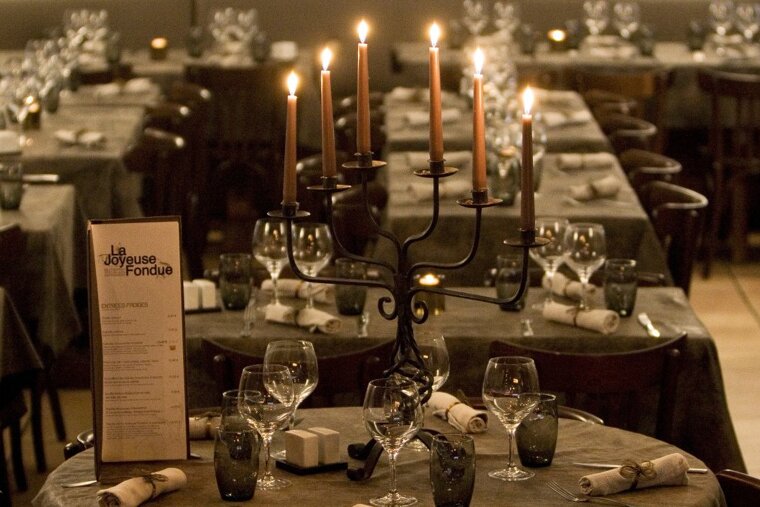 La Joyeuse Fondue
Surely a restaurant named 'La Joyeuse Fondue' is worth a trip if you are looking for fondue, right? This is a cosy restaurant located on the 'Rue du Soleil' serving the usual range of local cheese and meat fondues from around 21€. They also offer something slightly different, the 'Fondue au Beaufort et Cidre de Savoie' which as you guessed it, is Beaufort fondue flavoured with Savoie cider which sounds pretty tasty. Then, if fondue for main wasn't enough, you can always order the chocolate fondue with fresh fruit for dessert just to finish you off!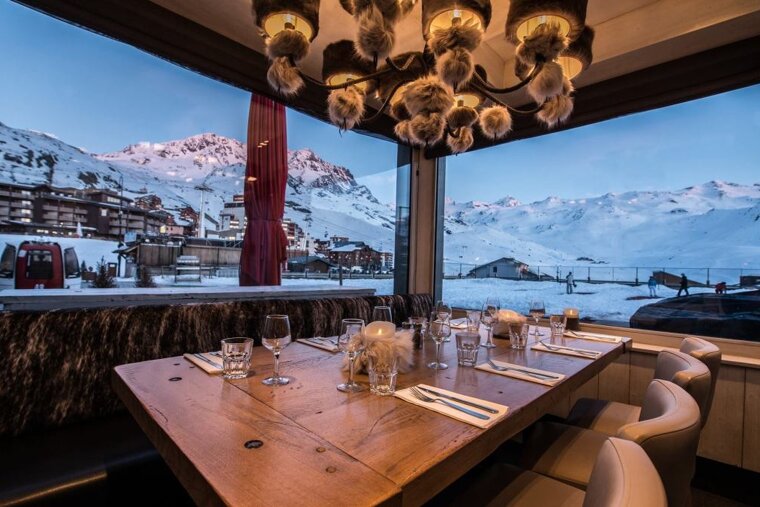 La Maison
If you are looking for a good spot to not only lunch but while away the afternoon without having to ski afterwards, or if you are meeting up with non-skiers, then 'La Maison' is well placed in the centre of Val Thorens at the 'Galerie Caron'. Their basic 'Fondue Savoyarde' with three local kinds of cheese is the first tier at 25.50€. Afterwards, there is 'Founde Savoyarde aux cepes' (with mushrooms) at 29€ and then, for those really wanting to go lux, they offer 'Fondue Savoyarde aux truffes' (with truffles) for 39€ per person. They have a nicely decorated interior or a lovely sunny terrace depending on the weather.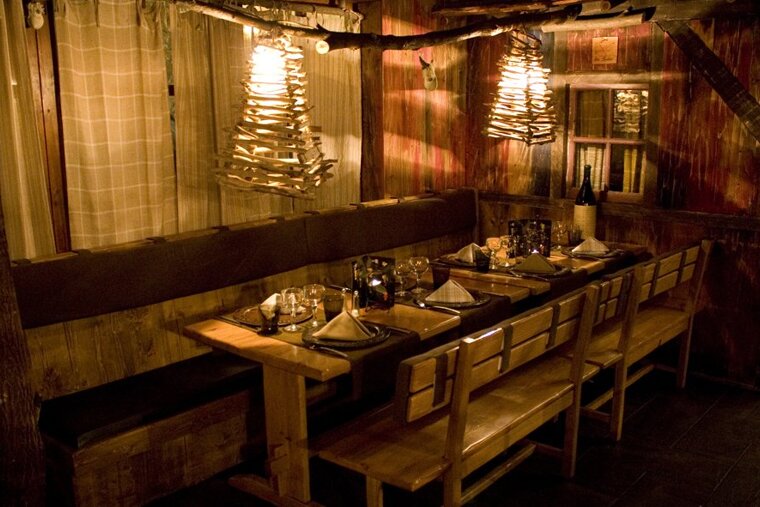 La Cabane
If not everyone in the group is looking for cheese fondue then 'La Cabane' located in the 'Quartier des Balcons' may be worth a try as they have extended their fondue menu outside of the fromage variety. They offer a traditional cheese fondue with Emmental, Comté du Jura & Beaufort de Savoie for 23€ per person. They also have 'Fondue Savoyarde' with Reblochon at 24€ or 'Fondue Savoyarde aux cepes' (with mushrooms) from 26€. That's for the cheese lovers. Then, they also offer 'Fondue Bourguignonne' (26€) which is a meat fondue with chunks of beef to be cooked at the table served with a choice of sauces and fries. Otherwise, if you're looking for something a little more 'royale', then order the 'Fondue Bourguignonne Royale' at 29,00€ which is beef, chicken and duck to be cooked at the table fondue style. Finally, they also have 'Fondue Thai' (33€) which is salmon and prawns flavoured with lemongrass served with Thai rice. A different way to spend the evening and certainly a great way to refuel after a day on the slopes.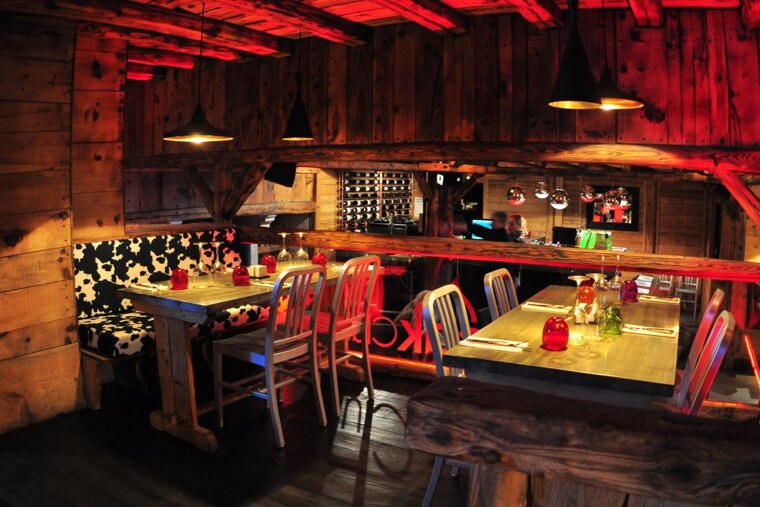 The Steak Club
Despite the name, you can also find delicious cheese fondue at the 'The Steak Club'. A fantastic modern restaurant on 'Rue de Gebroulaz' just along from 'Saloon' and 'Snesko', there is a cosy bar area which is perfect for a pre-dinner aperitif and obviously plenty of bars close by afterwards if you are not too cheese-filled and ready for home. The layout of the restaurant means there are some quiet corners if you are just a couple or a fab long table right in the centre if you are out as a group. They offer a 'Savoyarde Fondue' for a minimum of two people and there are plenty of other delicious dishes on the menu to choose from too. They are open from 16:00 with continuous service right through until midnight.
Chez Pepe Nicolas
Another option either for day or evening is 'Chez Pepe Nicolas', a very typical Savoyard restaurant using local produce located at their farm in between Les Menuires and Val Thorens. In the day, the restaurant can be accessed on skis by following the 'Chasse' red run leading from the bottom of the 'Plein Sud' lift in Val Thorens or by continuing on from the 'Pluviometre' run. In the evening, the restaurant is accessed on foot with parking close by and a small walk up the snowy and torchlit path. Along with fondue they also offer typical local specialities so there should be something for everyone in the group. The restaurant décor is local but with a very modern twist and is a really cosy place. There is limited place, however, so it is advised to book in advance.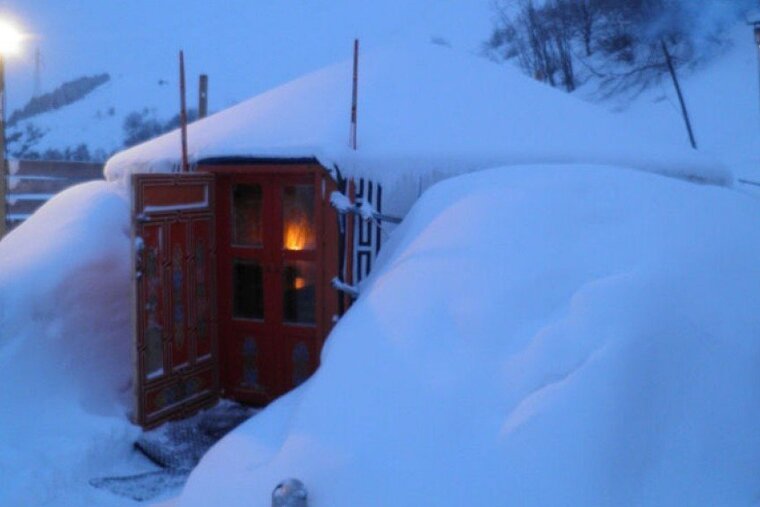 Les Yourtes des Belleville
Further down the valley, the 'Yourtes des Belleville' offer a unique setting for a group evening meal down in Les Menuires. If in doubt, the restaurant is an actual Yourte with traditional décor and cosy log fire! The Yourtes only open for reserved bookings (up to 40) and offer a set menu either at 40€ or 45€. The menu includes three courses with traditional fondue or fondue with truffles and, for the non-fondue lovers in the group, there are the alternative options of cote de boeuf or tartiflette. Situated at the foot of the 'La Masse 1' gondolas and just next to the 'Reberty' chairlift, if you are skiing that way in the daytime you should see the Yourte just tucked away in this snowy backdrop. In the evening the restaurant can (in theory) be accessed on ski otherwise by sledge, foot or car and there are two car parks nearby at the La Masse parking area. After your meal, the return is either on foot or they do offer a 'taxi skidoo' on request. A real novelty evening to add to your holiday.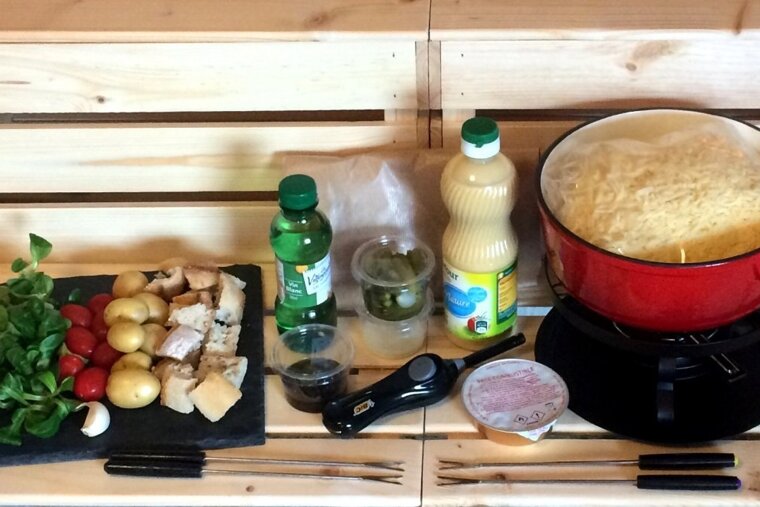 "Chez Toi"
Finally, another option if you want a 'cheese fest' evening but do not want to leave the comfort of your chalet and prefer to tackle the fondue pot in your elastic pants. You can rent everything you need from 8 a Huit in resort and they will even deliver to your accommodation!