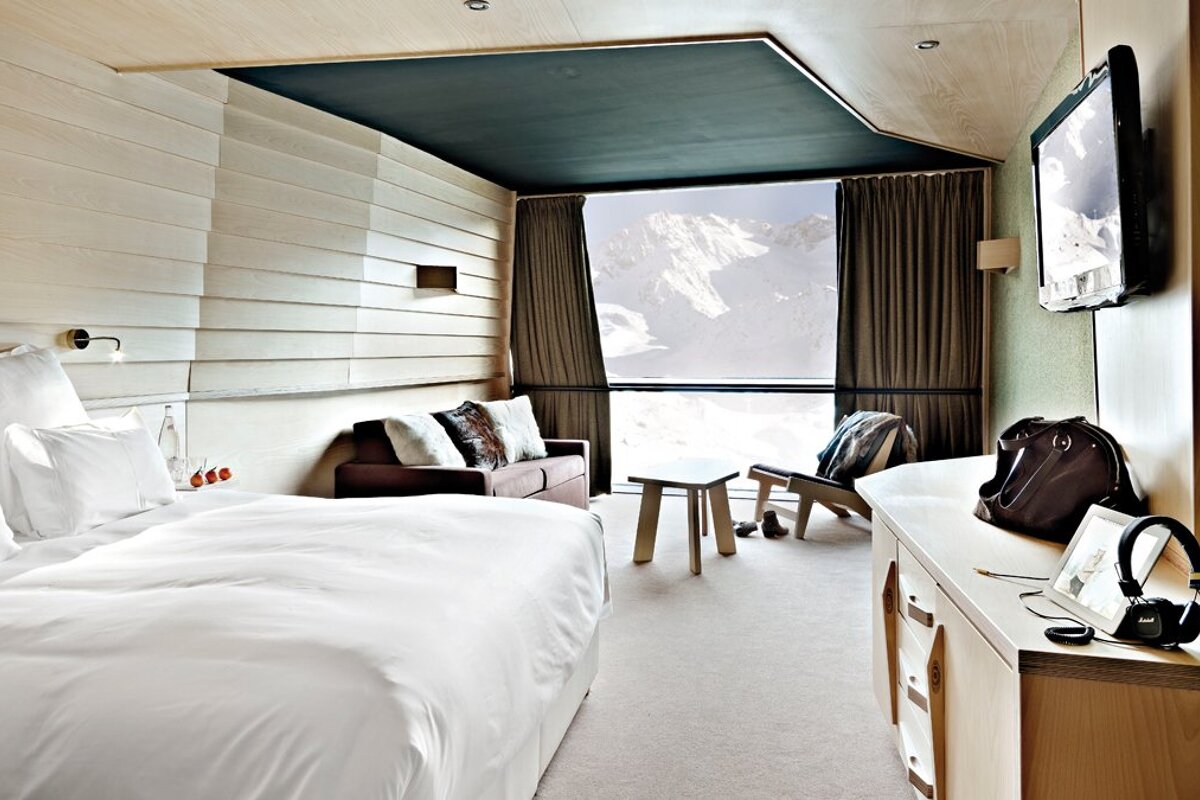 © Maisons & Hotels Sibuet
Hotel Guide to Val Thorens
Discover insights about Val Thorens hotels
With over 20 hotels and numerous apartments and chalets, Val Thorens offers a fantastic range of ski accommodation for all budgets. Whether your preference is for the ultimate in five-star luxury or friendly, simple family-run hotels, here you will find accommodation to suit your preferences.
Hotels vs chalets & apartments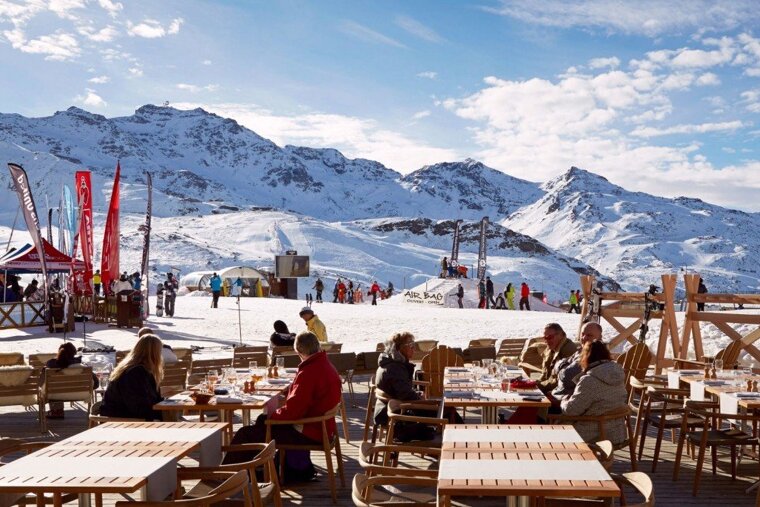 Chalets and apartments are usually the most popular accommodation options when it comes to ski holidays. They tend to offer more room, more flexibility in terms of catering and, sometimes, better prices. However, hotels are also a great choice for those visiting Val Thorens, especially when you're not coming for a full week.
Why book a hotel room instead of a chalet or an apartment in Val Thorens?
If you aren't planning on a full week ski holiday, hotels can offer much more flexibility on dates, plus many can't be beaten in terms of extended services and facilities such as gourmet restaurants, spas, swimming pools, fitness rooms, tennis courts, childcare, bike and/or ski hire, flexible catering options... the choices are endless. And even though some apartment and chalet companies have recently made their booking requirements more flexible, the reality is that many can only be booked for six or seven days especially in peak season.
Luxury hotels in Val Thorens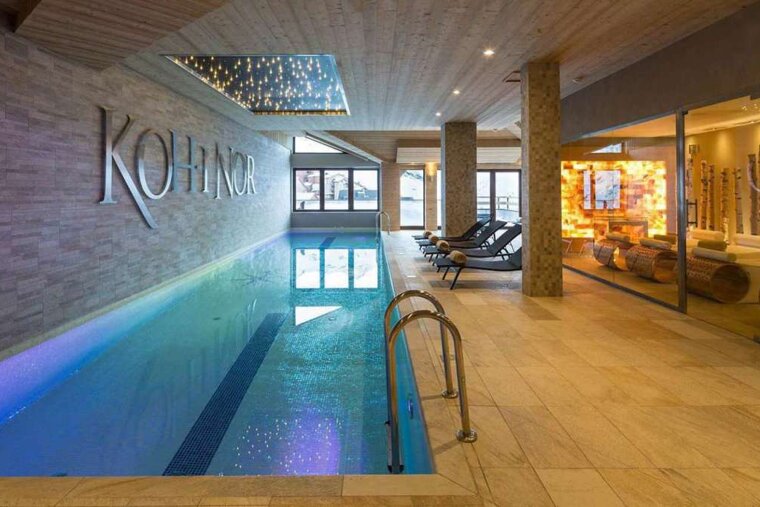 The highest ski resort in Europe, at 2,300m Val Thorens boasts an exciting range of five-star hotels. They all feature exquisite décor, fully-equipped spas, gourmet restaurants, lively lounge bars and large suites with fluffy beds and magnificent bathrooms.
Best luxury hotels in Val Thorens
These are the Val Thorens hotels that stand out from the rest thanks to their top-of-the-range facilities and services:
Group-friendly hotels in Val Thorens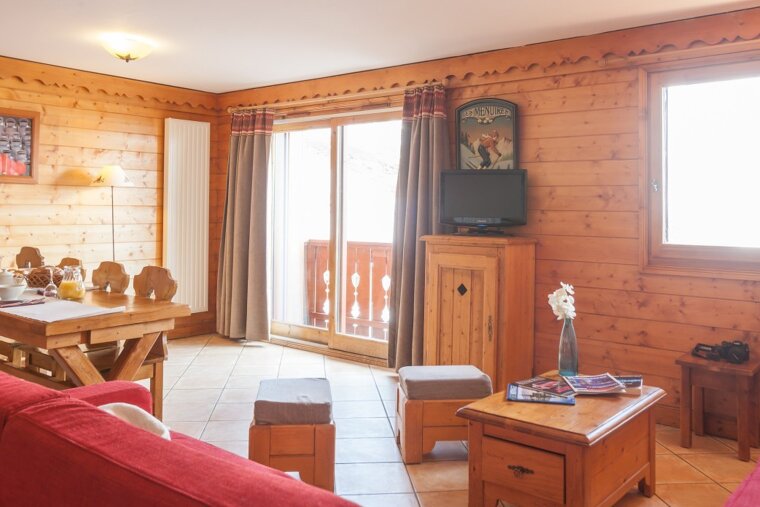 Val Thorens has a good selection of aparthotels (apartment buildings with hotel facilities) that are great for groups or families sharing accommodation.
Top group-friendly aparthotels in Val Thorens
These are our favourite apartment residences with hotel facilities and services in Val Thorens, offering spacious accommodation for groups.
Les Alpages de Reberty
Four stone and wood chalets housing apartments for up to 10 people, Les Alpages de Reberty stands out thanks to its fully-equipped spa. It includes an indoor pool, a steam room, and several treatment rooms for facial and body treatments and massages.

Val 2400
Constructed in a traditional Savoyard style, the Val 2400 Residence is home to 27 apartments that can accommodate up to 14 people. There's a range of facilities in the building including a relaxation space complete with sauna, a ski rental shop and the popular Le Red Fox Pub.
Family-friendly hotels in Val Thorens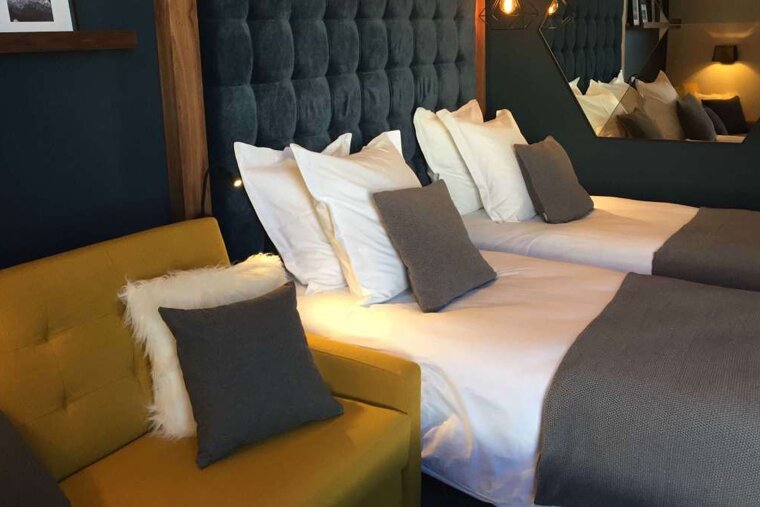 Most hotels in Val Thorens are more than happy to welcome young children and many of them offer family rooms. However, there are many other things to consider, such as distance to the pistes, amenities and services within the hotel and facilities in the neighbouring area.
Best family-friendly hotels in Val Thorens
This is where we'd book a room if we were travelling with young children.
Fahrenheit Seven Hotel
You don't have to give up your dreams of a lavish holiday if you're travelling with your children. The four-star Fahrenheit Seven Hotel is a top-class hotel boasting lots of family-specific features such as interconnecting rooms, easy access to ski schools, kindergarten and slopes, a wide range of kid's menus and a games room. Adults will enjoy its cocktail bar, sauna, hammam and fun, vintage style.

Hameau du Kashmir Hotel
The four-star Hameau du Kashmir Hotel is a charming family-friendly hotel offering large interconnecting suites and small studios where the little ones will feel at home. High chairs, cots and baby baths are available upon request. The hotel also has an elegant spa and two gourmet restaurants.

Le Menuire Hotel
The Le Menuire Hotel is located in the town of Les Menuires, offering ski-to-door access. As well as an all-inclusive experience ranging from meals and drinks to ski coaching, they have ski lessons for children between two and 12 years old including pick-up and drop-off and lunch and snacks, a babysitting service and private nannies.
Cheap accommodation in Val Thorens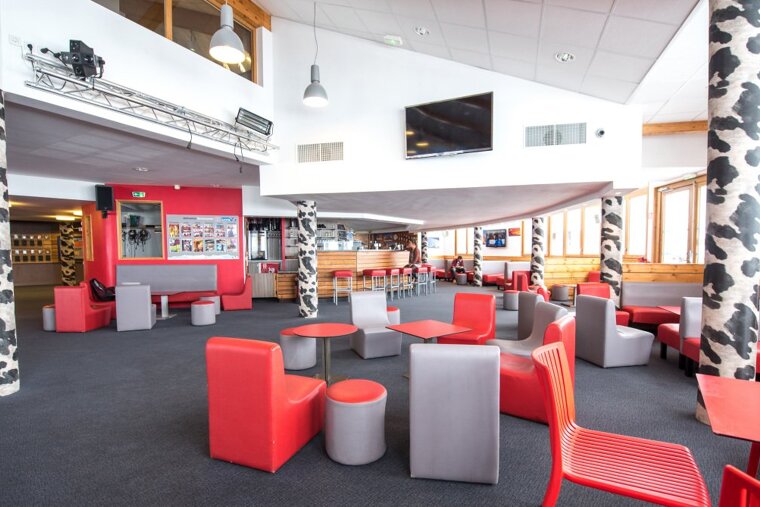 There are plenty of budget hotels in Val Thorens offering decent quality rooms at reasonable prices. Many are located in the resort centre, making them a good place to base yourself on your mountain biking or ski holiday while saving some money at the same time.
Top best-value hotels in Val Thorens
In our opinion these hotels offer the most 'bang for your buck'.
UCPA
For those on a tighter budget, the UCPA is located just within a 15-minute walk from the centre of resort, set in the middle of the pistes. They offer a fully inclusive package, lift pass, equipment hire, instructors, breakfast, lunch and dinner plus they put on an entertainment programme each week to give you extra things to do once the sun goes down.

L'Isatis Chalet Hotel
Located in Les Menuires, L'Isatis Hotel is a traditional chalet-style hotel that offers ski-in and ski-out access, with the Bruyeres 1 gondola station right in front. This three-star establishment has simple but comfortable rooms and a very lively après-ski ambience at slightly cheaper prices than the hotels in Val Thorens centre.
Ski-in & ski-out hotels in Val Thorens
Most of the hotels in the Val Thorens area boast easy access to the pistes and ski lifts, either sitting right next to the foot of the slopes or just a short trip away by one of the free local buses.
Our favourite hotels near the lifts
If we were to choose, these would be our favourite hotels in Val Thorens with ski-to-door access.
Hillary Hotel
In Les Menuires, the three-star Hillary Hotel is situated near the Doron chairlift and close to the pistes, so you can ski right to its door and enjoy an après-ski drink on its sunny terrace or relax in its sauna after a long day on the slopes.

Tango Hotel
In the centre of Val Thorens, very close to the pistes as well as the shops, restaurants and bars in the resort, is the Tango Hotel. It offers stylish rooms, a complete spa with beauty treatments and massages and a very lively bar with live music in the evening.

Val Chaviere Hotel
At Val Chaviere Hotel you can put your boots on in their ski room and slide directly onto the slopes. When you return to the hotel in the evenings, take part in one of their fondue nights with live music or relax in their games room.
Find the perfect hotel in Val Thorens and the Belleville Valley
---
Top Hotels in Val Thorens for winter
Val Thorens has a broad range of accommodation on offer throughout the winter and summer seasons. If you prefer to stay in a hotel rather than a chalet or apartment, you should easily be able to find something to suit your taste.